Free legal clinics for Vermont seniors 60+
Vermont Legal Aid is hosting virtual legal advice clinics by phone. Vermont seniors — age 60 or more — can ask legal questions about COVID-19 or any civil legal question. We can help with health care, social security, consumer debt, housing, unemployment and more. Contact us to book your free 20-minute appointment.
Date: Thursday, March 18, 2021
Time: 9 - 11:30 a.m.
To schedule an appointment: Follow this link, answer a couple of questions, and fill out our online form. Or call 802-318-4169.
If you have an immediate legal problem, call our general phone number and ask for help: 1-800-889-2047.
The Seniors section of our website provides information on a variety of legal topics that are relevant to senior citizens.
Please choose a topic from the menu of links on this page.
You can also use our Legal Help Tool. If you are 60+ and you want to speak to an elder law specialist, choose the Seniors category in the Legal Help Tool to contact us.
---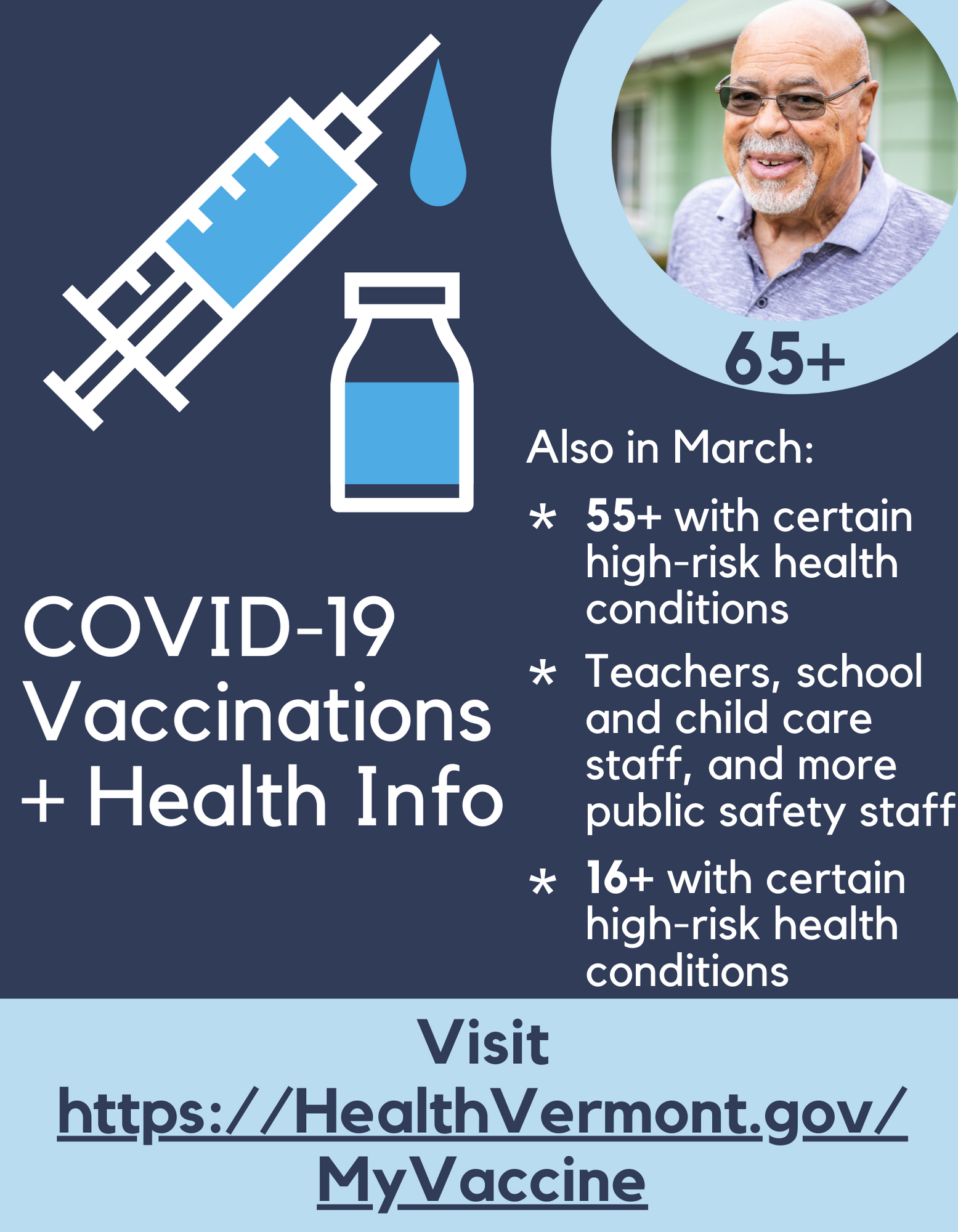 COVID-19 vaccine
Seniors who are age 65 or older can sign up now for the COVID-19 vaccine.
Starting March 8, people 55+ with certain high-risk health conditions can sign up.
Starting around March 8, teachers, school staff, child care and expanded public safety staff can sign up.
Starting March 15, people 16+ with certain high-risk health conditions can sign up.
The shots are free. You don't need to have health insurance. See the Vermont Department of Health (DOH) website to sign up or call 1-855-722-7878 toll-free. Translated information is also found on the DOH website or call that number and press 1. Translations in नेपाली (Nepali), Soomaali (Somali), Español (Spanish), Swahili, Kirundi, မြန်မာစာ (Burmese), العربية (Arabic), Tiếng Việt (Vietnamese) and Français (French).
Free rides for vaccination: Vermonters who don't have access to their own transportation can get a free ride to their scheduled vaccine clinic. Find your local provider on the VPTA website and make a reservation in advance.